Add your review
Review Champagne Reserve Brut 2015
Champagne Reserve Brut 2015
dry, sparkling
Always a Degorgement date on the bottle
The ultimate home champagne
Wellofwine, Importer of dedicated winemakers
.
Shop

buy by the bottle possible

Orders ordered before 12:00

NL within 24H, BE & DE 2/3 days, UK in 4 days

Need Help?

+31704066575 we speak English

Pay?

Safe with Ideal, PayPal or Credit Cards
| | |
| --- | --- |
| Grapes | Chardonnay, Pinot Noir and pinot Meunier |
| Profile | Dry with a soft mousse |
| Match with | Shellfish, Salmonids, Clambs, Whitefish and when you just want to drink Champagne |
| Year | Without year, but the harvest is from 2015 |
| Degorgement | October 2019 |
| Appellation | A.O.C. Champagne |
| Dosage | only 4 gramms of sugar |
| Production | Biodynamic |
Dry,sparkling, Always a Degorgement date on the bottle
The ultimate house champagne
One of the leading biodynamic producers. Refined mousse.  Citrus/ white fruit. Uplifting. Refreshing. Revitalizing. Dutch Number one !
In the Dutch media
The Grote Hamersma 2019
Re-testing was no longer necessary. After the very first introduction, I immediately received the highest possible honor. Was proclaimed Official House Champagne of the Hamersma Family. Proefschrift, which afterwards declared 'Best Champagne in the category between 30 and 40 euros', cannot compete with that. Unfortunately, the latter is no longer applicable: increasing popularity is accompanied by an increasing price. Anyway, a reason to test the test bottle offered: fresh dégorgement. But before we go for a taste (that will be spit inwards), let's talk about Leclerc Briant: tiny producer in Épernay. Until 2010 under the more than inspiring leadership of Pascal Leclerc. But fate struck. Leclerc died. And where then in wine tales, the children pick up everything and further perfect it, that kite did not go on this journey. Two large champagne houses, Lanson and Roederer, took away the loot, the latter being particularly interested in the 12 hectares of biodynamic vineyards of Leclerc, already 'clean' since 1947. A separate deal was subsequently concluded with an American investment company that immediately the entire team that worked for Leclerc was taken on again. Has now become one of the leading biodynamic producers. With their "simple" version here. Weighted dry and therefore never skimpy. Refined mousse without becoming too creamy. Viriel white fruit. Mining and uplifting.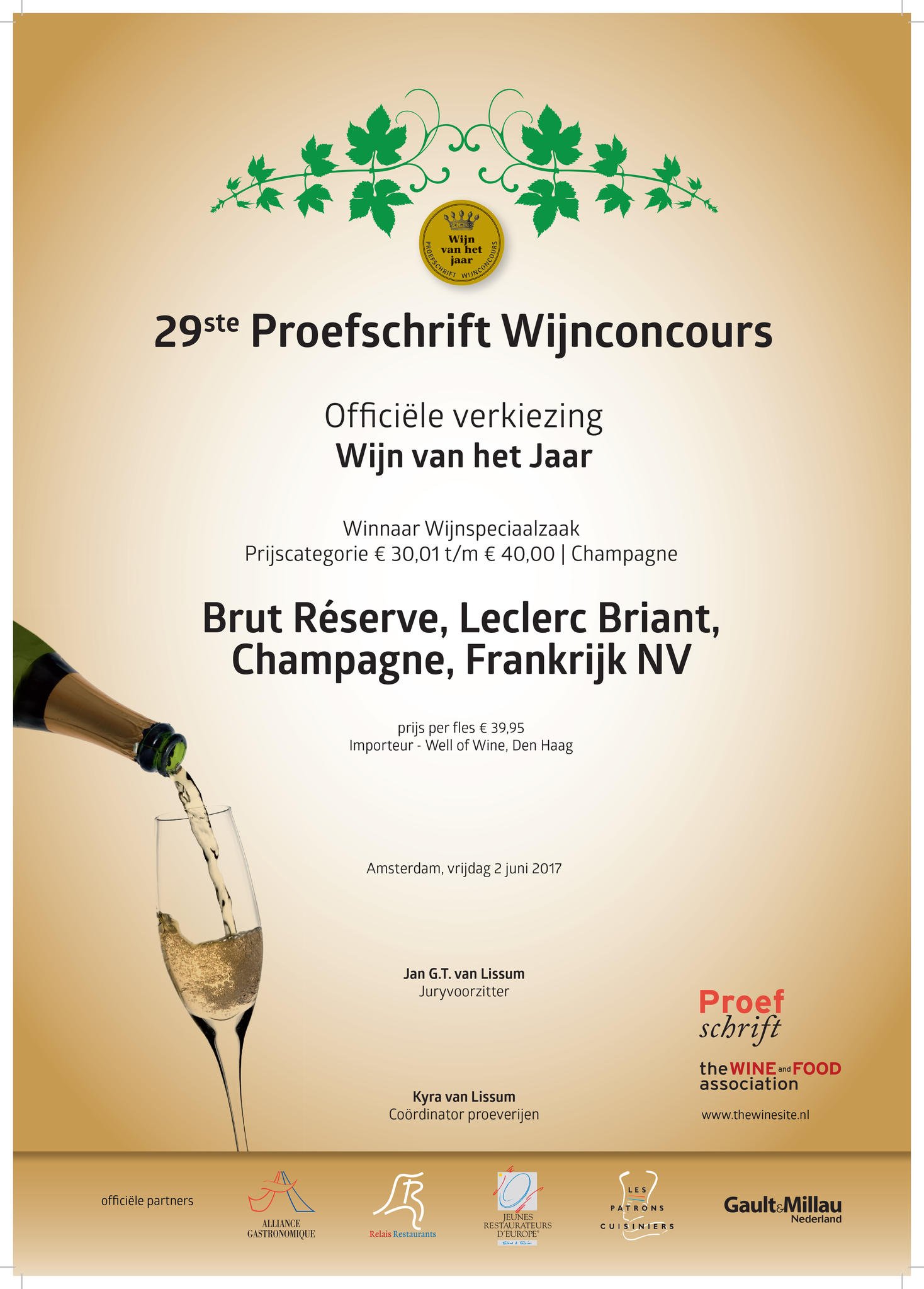 The Omfietsgids 2018
We tend to drink champagne - or secretly pour it into the nearest planter - while putting away sometimes is also a good idea. Not out of pity for the nearest plant, but because good champagne is even better. If you, as a moderate person, open a bottle of this and drink a glass of it every day, you notice that the champagne is getting better and better.
Winelife December 2017
Champagne that makes you pleasantly warm even on a cold winter's day. Ripe, rich, fragrant. Sip as an aperitif and the rest you drink at the table with a fish in cream sauce or coq au champagne. To enjoy!
BewarenBewaren
| | |
| --- | --- |
| Grapes | 40% pinot meunier, 40% pinot noir and 20% chardonnay |
| Alcohole | 12 % |
| Profile | |
| Match with | |
| Region | Champagne - Epernay |
| Appellation | A.O.C. Champagne |
| Land | France |
| Production | Organic |
| Article number | ja |
3 reviews
5 stars based on 3 reviews
07 Aug 2019
Waling
Heb de champagne nu 2 keer geproefd en t is bijzonder moeilijk het bij 1 glas te laten, wat een heerlijke champagne en ik begrijp dat dit de basis is? nu dat belooft wat.
24 Aug 2018
Yvonne
Mooie, zachte champagne. Een feestje om te drinken
24 Aug 2018
Hans
De versheid van de champagne knalt uit t glas, heerlijk, smaakt naar meer!